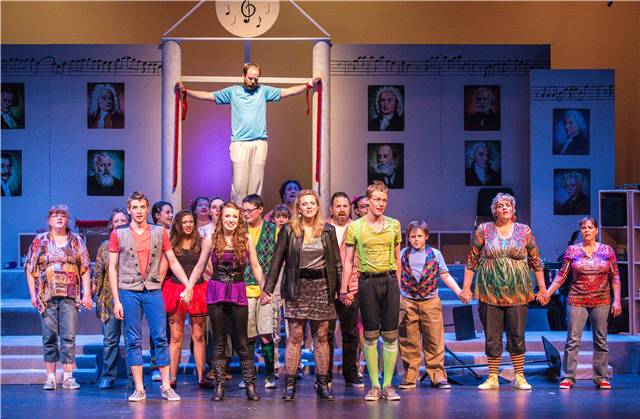 Production Team
Director:  Jacob Zentis
Musical Director:  Emily Ellett
Choreographer:  Kaitlin Bilodeau
Producer:  James Ferguson
Stage Manager:  Chris Cohen
The Windham Actors Guild presented the musical "Godspell" composed by Stephen Schwartz with a multigenerational cast at the Windham High School.
Godspell is a musical by Stephen Schwartz and a book by John-Michael Tebelak. It opened off Broadway on May 17, 1971
Godspell has played in various touring companies and revivals many times since, including a 2011 revival which played on Broadway from October 13, 2011 to June 24, 2012. Several cast albums have been released over the years and one of its songs, "Day by Day" from the original cast album, reached #13 on the Billboardpop singles chart in the summer of 1972.
The structure of the musical is that of a series of parables, based on the Gospel of Matthew (though three of the parables featured are recorded only in the Gospel of Luke). These are then interspersed with a variety of modern music set primarily to lyrics from traditional hymns, with the passion of Christ treated briefly near the end of the performance. It started as a college project performed by students at Carnegie Mellon University and moved to La MaMa Experimental Theatre Club in Greenwich Village. It was then re-scored for an off-Broadway production which became a long-running success. A junior one-act version with some songs removed has also been made under the title Godspell Junior.
The show originated in 1970 as Tebelak's master's thesis project, under the direction of Lawrence Carra, at Carnegie Mellon University in Pittsburgh, Pennsylvania. A version was performed at Carnegie Mellon in 1970, with several of the cast members from the CMU Music Department. Tebelak then directed the show, with much of the student cast, for a two-week, ten performance run at La MaMa Experimental Theatre Club (aka Cafe la Mama), New York City, opening February 24, 1971. It was brought to the attention of producers Edgar Lansbury (brother of Angela Lansbury) Joseph Beruh and Stuart Duncan by Carnegie alumnus Charles Haid (associate producer), who wanted to open it Off-Broadway.[1]
The producers hired Stephen Schwartz, another alumnus of Carnegie Mellon's theater department, to write a new song score. Schwartz's songs incorporated a variety of musical styles, from popto folk rock, gospel, and vaudeville. One song, "By My Side", written by CMU students Jay Hamburger and Peggy Gordon, was kept from the original score. As with the original score, most of the non-Schwartz lyrics were from the Episcopal Hymnal (see also the 1971 Off-Broadway run).
CAST
Keith Strang (Jesus)
Emily Mayne (Judas, John the Baptist)
Alicia Markham
Angela Sanscrainte
Katherine Sanscrainte
Bekah Georgy
Debbie Mackenzie
Deb Talcott
Jeff Scott
Jennifer Holbrook
John LeBlanc
Joshuah Rotz
Julie Neveu
Kate Burns
Lauren DeCloux
Lori Georgy
Nick Frazier
Richard Bouchard
Sam Cohen
Sara Pascarella