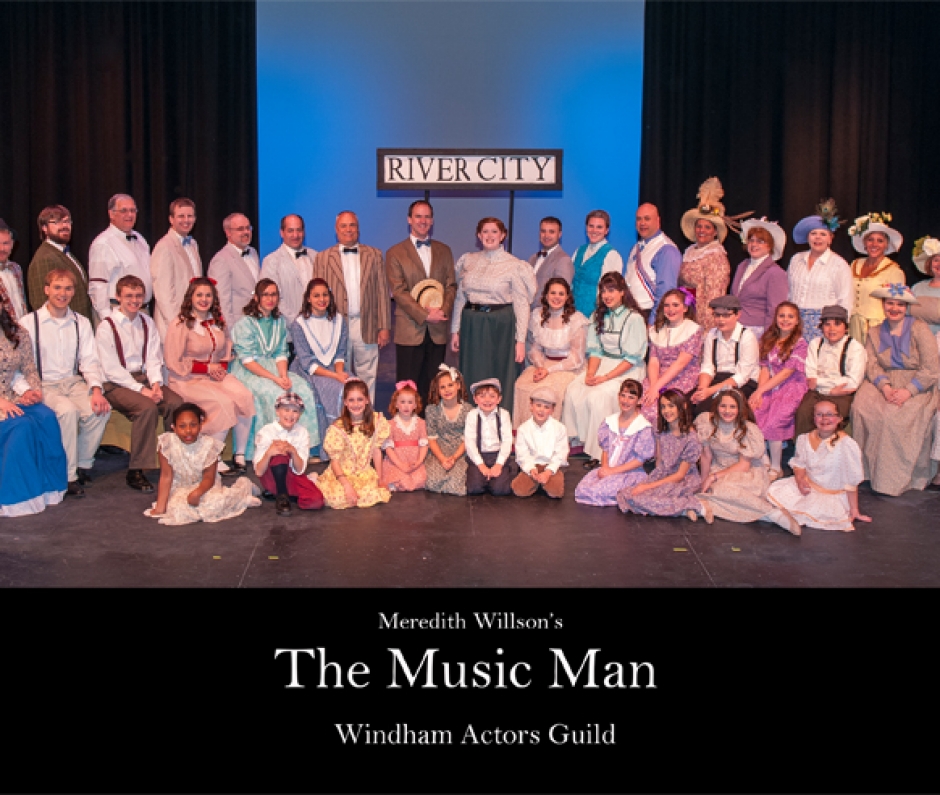 The Music Man Production Team
Directed by James Ferguson
Music Direction by Keith Belanger
Stage Manager David R. Ramsey
About The Show
Performed April 2012 at the Windham High School.
Harold Hill, a con man who poses as a boys' band organizer and leader and sells band instruments and uniforms to the naive Iowa townsfolk, promising to train the members of the new band. But Harold is no musician and plans to skip town without giving any music lessons. Prim librarian and piano teacher Marian sees through him, but when Harold helps her younger brother overcome his lisp and social awkwardness, Marian begins to fall in love. Harold risks being caught to win her.
The Music Man is a musical with book, music, and lyrics by Meredith Willson, based on a story by Willson and Franklin Lacey.
Cast of Characters (in order of appearance)

| | |
| --- | --- |
| Traveling Salesmen | Richard Bouchard, Jon Bove, Jim Koniers, Tom Seniow, Dwight Stearns, Galen Stearns |
| Charlie Cowell | Rick Adams |
| Conductor | Charles Basner |
| Harold Hill | Keith Strang |
| Mayor Shinn | Christopher Cohen |
| Quartet - Ewart Dunlop | Jim Koniers |
| Quartet - Oliver Hix | Charles Basner |
| Quartet - Jacey Squires | Tom Seniow |
| Quartet - Olin Britt | Jon Bove |
| Marcellus Washburn | Billy J. Pomerleau |
| Tommy Djilas | Jake Simard |
| Marian Paroo | Emily Mayne |
| Mrs. Paroo | Kate Burns |
| Amaryllis | Victoria InDelicato, Kayla Joyce |
| Winthrop Paroo | Andrew Bove, Samuel Cohen |
| Eulalie Mackecknie Shinn | Lori Georgy |
| Zaneeta Shinn | Madison Enos |
| Gracie Shinn | Haley Enos |
| Ladies - Alma Hix | Jennifer Holbrook |
| Ladies - Maud Dunlop | Irene Cohen |
| Ladies - Ethel Toffelmier | Diane Enos |
| Ladies - Mrs. Squires | Debra Talcott |
| Constable Locke | Richard Bouchard |
| River City Townspeople | Cori Adams, Rick Adams, Robin Berry, Jennifer Gagne, Donna InDelicato, Katelyn Parker, Dwight Stearns, Galen Stearns |
| Teen Ensemble | Alexis DiTrapano, Haley Enos, Julia Enos, Madison Enos, Sarah Georgy, Nicholas Holmes, Euginia Schipelliti, Jake Simard |
| Youth Ensemble | Quinn Adams, Tristan Adams, Tucker Adams, Andrew Bove, Meaghan Breton, Molly Carlson, Sam Cohen, Amelia DiPerri, Kaitlyn Flammia, Victoria InDelicato, Jake Joyce, Kayla Joyce, Brooke McLaughlin, Emma Noyes, Helen Washington |
| Understudy for Marian Paroo | Katelyn Parker |
| Understudy for Maud Dunlop | Jennifer Gagne |