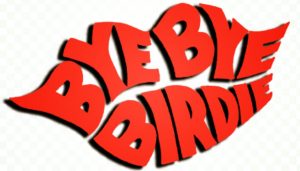 Bye Bye Birdie Show dates May 4th, 5th and 6th, 2018
Audition Dates:  February 18th from 6:00 pm to 9:00 pm at Searles School & Chapel; and February 20th 6:30 pm to 8:30 pm at the Windham High School - 
For more Audition information, check out
our Auditions Page

BYE BYE BIRDIE
a Musical Comedy
Book by Michael Stewart
Music by Charles Strouse
Lyrics by Lee Adams
Original Produced by Edward Padula
Our Production Team:

Director: Angèlica Rosenthal;
Produced by: Keith Strang;
Music Director: John Carey;
Choreographer:  Stephanie Ernst
Performance Dates and Show Times:
Friday, May 4, 2018 at 7:00 pm
Saturday, May 5, 2018 at 7:00 pm
Sunday, May 6, 2018 at 2:00 pm


Location:
Windham High School
64 London Bridge Road
Windham, New Hampshire
About the show and Cast
About the show:
When the draft selects rock star Conrad Birdie, his fans are devastated, but none more than struggling songwriter Albert Peterson, whose song Birdie was just about to record.  Albert's longtime girlfriend, Rosie, pushes Albert to write a new tune and concocts a plan as a publicity stunt, that Conrad will bid a typical American Teen girl goodbye with a very public farewell kiss while performing on television.  The scheme works, with a teenager Kim MacAfee declared the winner, but no one has counted on the jealous wrath of her boyfriend.
| | |
| --- | --- |
| Character | Cast Member Name |
| Albert Peterson |   |
| Rose Alvarez |   |
| Conrad Birdie |   |
| Mr. Harry MacAfee |   |
| Mrs. Doris MacAfee |   |
| Kim MacAfee |   |
| Randolph MacAfee |   |
| Hugo Peabody |   |
| Ursula Merkle |   |
| Deborah Sue |   |
| Margie |   |
| Alice |   |
| Harvey Johnson |   |
| Helen |   |
| Nancy |   |
| Penelope |   |
| Suzie |   |
| Karl |   |
| Freddie |   |
| Bartender |   |
| Mrs. Mae Peterson |   |
| Gloria Rasputin |   |
| Mayor |   |
| Mayor's Wife |   |
| Mrs. Merkle |   |
| Mr. Johnson |   |
| Conrad's Guitar Man |   |
| Policeman |   |
| 1st Reporter |   |
| 2nd Reporter |   |
| 3rd Reporter |   |
|   |   |
Pages: 1
2