We're Going to The ACCTFest in Rochester, MN!
Come see an open-rehearsal on June 14th at 7:30 pm at the Searles School & Chapel in Windham, NH
There is no admission cost, but donations are happily accepted.  Other open-rehearsal dates & locations TBD
The Most Massive Woman Wins
by Madeleine George
Challenging, brutal and hilarious, four women of various shapes and sizes sitting in the waiting room of a liposuction clinic explore their perceptions of body image. The women reveal their experiences dealing with their weight issues through monologues, short scenes, and even schoolyard rhymes. From painful childhood memories to frustrations with the opposite sex, these experiences both haunt and empower these women as they imagine their way to a new vision of themselves as beautiful and whole.
The adventure started last year when the extremely talented Aaron Foss approached Producer, Keith Strang with the suggestion to perform "The Most Massive Woman Wins" at the New Hampshire Community Theater Association's yearly competition in September, 2016.   Keith read through the play, and couldn't say no to such a moving piece.  Aaron then assembled 4 of the most amazing actresses in the Northeast to perform in the competition, Amy Agostino,  Shawna Ciampa, Hannah Heckman-Mckenna, and Laurie Torosian.  All four actresses and Aaron received personal recognition and accolades, along with awards for their performance, and the show won the competition.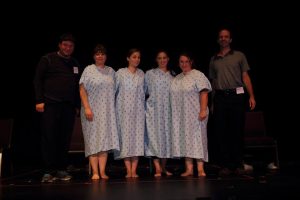 The next step was the AACT Regional Competition in Connecticut in February, 2017. Again, Amy, Shawna, Hannah, and Laurie, with Colleen Strang as Director, Jackie Fitzgerald-Boyd as Lighting Designer and Keith Strang as Sound Design and Producer, put on a phenomenal performance, and won the Regional competition, qualifying them to move on to the National competition in Minnesota in June, 2017. This is the first time a NH theater company has won the regional AACT competition in 28 years!
Now We're Going to The ACCTFest in Rochester, MN!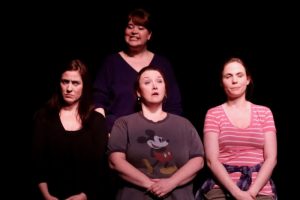 For the first time in 28 years, a NH theater company will be represented at the AACT nationals!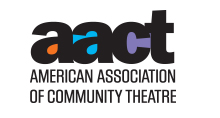 AACTFest 2017 in Rochester, MN
June 26 – July 1, 2017
Windham Actors Guild (WAG)'s production of "The Most Massive Woman Wins" is going to the American Association of Community Theaters National Competition in Rochester, MN (June 26-July 1, 2017)
WAG's company of 7 cast and crew members will travel 1351 miles, from the Granite State to the North Star State. We will be competing against 12 other theater companies for the best in the nation, category – 1 act productions.
The AACTFest 2017 is the culmination of a two-year cycle of state and regional theatre AACT festivals across the country! This festival has 12 community theatre productions, a theatre management conference, a youth leadership conference and youth festival, educational workshops, top vendor displays, the design exhibition and competition, a new monologue competition, social events, sightseeing and networking opportunities, all ending with a festival awards presentation.
You can help support us by making a tax-free donation today through
the Pay Pal "Donate" button

Or Send a check to:

Windham Actors Guild
P O Box 791
Windham, NH 03087
Thank you !  Windham Actors Guild
*Windham Actors Guild is a non-profit organization and your donation is eligible for tax year 2017