THANK YOU TO ALL OUR SUPPORTERS INCLUDING THOSE BUSINESSES AND INDIVIDUALS LISTED BELOW
We Went to The AACTFest 2017 in Rochester, MN!
For the first time in 28 years, a NH theater company was represented at the AACT nationals at: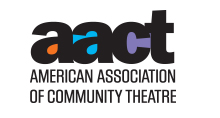 AACTFest 2017 in Rochester, MN
June 26 – July 1, 2017
Windham Actors Guild (WAG)'s performed its production of "The Most Massive Woman Wins" to the American Association of Community Theaters National Competition in Rochester, MN
WAG's company of 7 cast and crew members traveled 1351 miles, from the Granite State to the North Star State. We competed against 12 other amazing theater companies in 13 categories.
The AACTFest 2017 was the culmination of a two-year cycle of state and regional theatre AACT festivals across the country! This festival had 12 community theatre productions, a theatre management conference, a youth leadership conference and youth festival, educational workshops, top vendor displays, the design exhibition and competition, a new monologue competition, social events, sightseeing and networking opportunities, all ending with a festival awards presentation.  Our production was:
The Most Massive Woman Wins
by Madeleine George
Challenging, brutal and hilarious, four women of various shapes and sizes sitting in the waiting room of a liposuction clinic explore their perceptions of body image. The women reveal their experiences dealing with their weight issues through monologues, short scenes, and even schoolyard rhymes. From painful childhood memories to frustrations with the opposite sex, these experiences both haunt and empower these women as they imagine their way to a new vision of themselves as beautiful and whole.
The adventure started last year when the extremely talented Aaron Foss approached Producer, Keith Strang with the suggestion to perform "The Most Massive Woman Wins" at the New Hampshire Community Theater Association's yearly competition in September, 2016.   Keith read through the play, and couldn't say no to such a moving piece.  Aaron then assembled 4 of the most amazing actresses in the Northeast to perform in the competition, Amy Agostino,  Shawna Ciampa, Hannah Heckman-Mckenna, and Laurie Torosian.  All four actresses and Aaron received personal recognition and accolades, along with awards for their performance, and the show won the competition.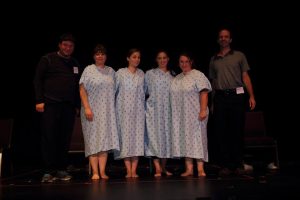 The next step was the AACT Regional Competition in Connecticut in February, 2017. Again, Amy, Shawna, Hannah, and Laurie, with Colleen Strang as Director, Jackie Fitzgerald-Boyd as Lighting Designer and Keith Strang as Sound Design and Producer, put on a phenomenal performance, and won the Regional competition, qualifying them to move on to the National competition in Minnesota in June, 2017. This is the first time a NH theater company had won the regional AACT competition in 28 years!
We then went to The AACTFest 2017 in Rochester, MN!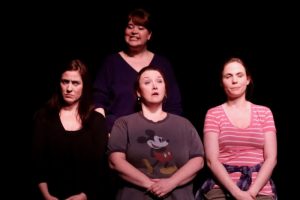 This amazing opportunity was a learning event which allows us to bring back our newly gained knowledge to apply to future WAG productions.
Our trip to AACTFest 2017 was made possible by the GENEROUS Donations of Business and Individual Sponsors. 
Our Special Thanks goes to the following:
*Enterprise Bank – Windham, NH (Now Open!)- 603-965-1615  www.enterprisebanking.com

Intel Corporation

*Fitzgerald-Boyd Law, PLLC – Plaistow, NH 603-612-0333  jcfitzgeraldlaw@aol.com

*Maplewood Title Company, Inc – Plaistow, NH 603-612-0300   maplewoodtitle@aol.com

The Strangs
*Coco, Early & Associates – Bridge Division – 603-382-2100 with locations in Derry, Plaistow, Epping & Hampstead

*Mortgage Network, Inc – Mortgage Officer, Dennis Edmondson – 603-498-6991

Boemark Construction Corp – Hampstead, NH – Custom Built Homes – 603-489-1346

Director Only Services
Wendy Heckman & Sean McKenna
Windham Endowment for Community Advancement
* Please see this sponsor's ad on the Corporate Sponsors' Page
Again, Thank you to all our supporters, we could not have done it without you!    Windham Actors Guild
Windham Actors Guild is a non-profit organization and your donation is eligible as a tax deduction for the tax year it is given.