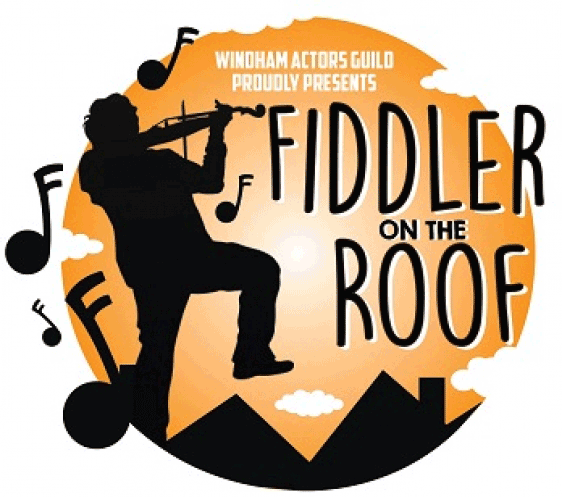 Fiddler on the Roof Production Team
Directed by Dan Pelletier
Music Director: Amanda Morgan
Choreographer: Katie Alexander
Stage Manager: Colleen Strang
Producer: Keith Strang
About The Show
Performed April 8, 9 & 10, 2016 at the Windham High School.
Set in the little village of Anatevka, Fiddler on the Roof centers on Tevye who is a poor dairyman raising his five daughters.
With the help of a colorful and tight-knit Jewish community, Tevye tries to protect his daughters and instill them with traditional values in the face of changing social mores and the growing anti-Semitism of Czarist Russia.
Rich in historical and ethnic detail, Fiddler On The Roof's universal theme of tradition cuts across barriers of race, class, nationality and religion, leaving audiences crying tears of laughter, joy and sadness.
Cast of Characters

Tevye - Keith Belanger
Golde - Jessica Plummer
Tzeitel - Emily Holecy
Hodel - Jessica Furtado
Chava - Chantel Desjardins
Yente - Josephine Thomas
Lazar Wolf - Chris Cohen
Motel - Isaac Mishkit
Perchik - Arthur Nirgianakis
Fyedka - Dan Merriman
Constable - Dave Ropple
Shprintze - Sage Ulery
Bielke - Emerson Carracedo
Rabbi - Bob Carolan
Mendel - Elisha Beavers
Grandma Tzeitel - Ellen Burger
Fruma-Sarah - Chelsea Detollenaere
Nachum - Tracy Carracedo
Shaindel - Betty Dunn
Mordcha - Greg Barletta
Avram - Michael Caruso
Fiddler - Emily Fitzgerald
Cast of Characters
Adult Ensemble (Villagers, Russian Soldiers, etc.)
Richard Bouchard
Tennyson Brea
Sonshine Darkling
Sarah Delisle
Chris Dryer
Dave Gocklin
Kayla Joyce
Beth Koenigsbauer
Sarah Ropple
Kristie St. Laurent
Katya Torres
Youth Ensemble
Sophie Garas
Rachel Holliday
Meghan Koenigsbauer
Emily Paquette
Abby St. Laurent
Grace St. Laurent